Rudra Natural Crop Protection Liquid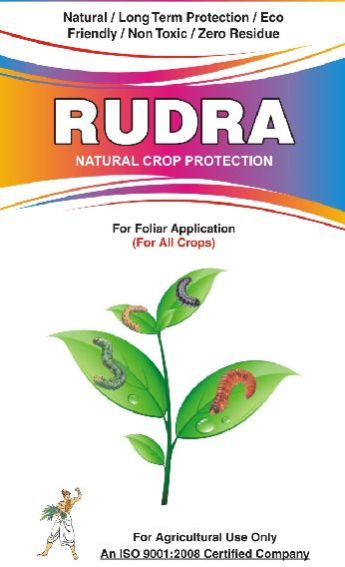 Business Type
Manufacturer, Supplier, Retailer, Wholesaler
Net Content
1000ml.
Microbial extracts
80%
Dissolving Agents
20%
Click to view more
Product Details
Content
Metabolite Fermentaion Based
Description
Controls Worms , Borers and Insects
RUDRA is an excellent biotech research product. Obtained from secondary metabolites derived from microbes. It has unique modes of action and are completely bio-degradable. Leaves no residue.

RUDRA is effective against various insects such as fruit borer, stem borer, heliothis, army worm, scale insects and 1st/2nd larval instars of lepidopteran pests.

Mode of action:
RUDRA degrades the cell wall containing chitin, thus killing the insect and also works as stomach poison.
RUDRA works on contact, provides long term control and also develops resistance against various pests.

Compatibility: RUDRA is compatible with most insecticides and fungicides.lt can be used on all crops.

Direction For Use :
Dilute RUDRA in clear water 1.5-2 ml per liter.
Use (Goldwet) / Sticking / Spreading agent for best results.
Use the spray solution, the same day of preparation. Spray liberally over the whole plant for excellent results & spray early morning or in the evening for good effect.
Do not spray during noon time or at high temperature .
The results are visible after 24hrs of spraying & repeat the spray if insects spotted.

RUDRA being organic in nature is well suited for organic and ipm cultivation.

Note:it is highly specific to target insects and safe to pollinators and other beneficial insects.

Caution :
For Agricultural Use Only
Please See Application Guide For Use.
Keep Out of Reach of Children.
Keep in cool, dry place.
Disposal of containers.

Warranty : Since the use of the product is beyond our control we cannot assure any responsibility other than for the uniform quality of the product.
Looking for "
Rudra Natural Crop Protection Liquid

" ?