RID Broad Spectrum Antiviral Liquid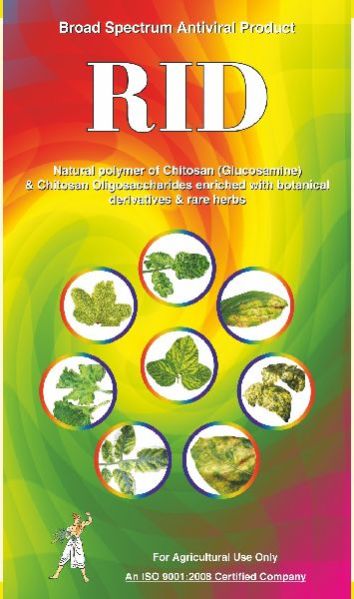 Business Type
Manufacturer, Supplier, Retailer, Wholesaler
Net Content
1000ml
Composition
Contains Natural Polymer of Glucosamine, Chitosan Oligosaccharides, Botanical Derivatives & Rare Herbs.
Usage
Agricultural
Click to view more
Product Details
Content
Chitosan Oligosaccharide
Description
Viral Disease Control
RID effectively helps to control viruses on all growth stages of crops.

RID is a natural product derived from marine sources and botanicals.lt enhances plants own defence mechanisms (immunity) and increases resistance against mainly virus, also fungal & bacterial infections. Activates plant cells & induces plant to produce antiviral substances (increased synthesis of secondary plant metabolites). Also plant growth promoter & yield enhancer.

 
Advantages:
Antiviral Activity Inhibits systemic propagation of viruses & viroids throughout the plant. RID is reported to be active against the potato virus X, tobacco mosaic and necrosis viruses, alfalfa mosaic virus, peanut stunt virus, cucumber mosaic virus, rose mosaic virus, peony ring spot, common bean mosaic virus, tomato spotted wilt virus, chilli leaf curl, cauliflower mosaic virus and many other viruses.
Nematicidal Properties: Nematodes proliferation is controlled, destroys nematode eggs & degrading chitin containing cuticle of young nematodes.
As plant growth promoter, it shows positive effects on germination index, growth of seedling, root length, shoot growth, flowering, leaf area increases, induces nutrient uptake,etc.
Effectively controls some soil borne pathogens when applied as root drench.
Seed Coating When used for seed coating, it alters permeability of seed membrane, therby increasing nutrient concentration in seed resulting in better & faster germination. Also it forms a thin coat over the seeds and thus protects from microbial attack.
Helpful for alleviating stresses, improves plant tolerance to salinity, metal toxicity, water scarcity, environmental stresses, various biotic & abiotic stress.
Increases quality, yield & shelf life of harvested product.
Reduces the use of chemical pesticides, thus cost effective.
Increases load of beneficial microbes in soil, thus improving quality / health of the soil.
The product is 100 % water soluble & biodegradable.

Dosage : Use 30 ml of RID diluted in 15 liters of water/ For 200 liters volume of water use 300 ml RID.

Note : Do not use it by mixing with alkaline agro chemical. Long term protection.

Caution :
For Agricultural Use Only
Please See Application Guide For Use
Keep Out of Reach of Children.
Keep in cool, dry place.
Disposal of containers.

Warranty : Since the use of the product is beyond our e. control we cannot assure any responsibility other than for the uniform quality of the product.
Looking for "
RID Broad Spectrum Antiviral Liquid

" ?