Aari Fungi Crop Protection Liquid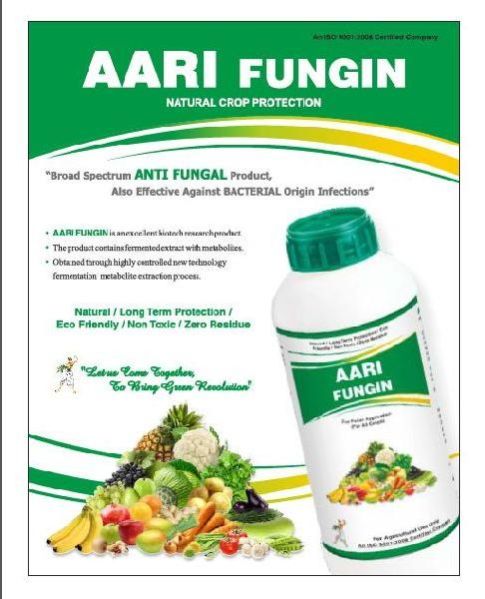 Business Type
Manufacturer, Supplier, Retailer, Wholesaler
Compatability
It is Compatible with Most Commonly Used Agro Chemical.
Form
Liquid
Application
Agricultural
Click to view more
Product Details
Content
Metabolite Fermentaion Based
Description
Fungal and Bactrial Control
Product Detsils:
Aari Fungin is an excellent biowch research product.
The product contains fermented exnAct with metabolites.
Obtained through highly co.olled new teelmology fermentation metabolite extraction process.

Diseases Controlled
It is very effective on soil borne diseases & plant disease which are hard to control norrnally, like Fusarium WE, Phytophthora Gummosis, Pythium and Rhizoctonia (Damping off).
Aari Fungin is helpful to control various fungal diseases like Bacterial Blight, Alternaria Blight, Early & Late Blight, Downy Mildew, Anthracnose, Black Spot, Fruit Rot, Stem Rot and xanthomonas.
Also helpful to control bacterial diseases like Bacterial Blight in pomegranates, Citrus canker M Lemon group of fruits, Angular Leaf Spot of Cotton, Fruit & Leaf Spot in vegetables.
Helpful against diseases like Stem Rot of Cabbage, Wilt & Altaria Blight of Cumin, Sigatoka and Rhizome Rot of Banana and Red Rot of Sugarcane.

Benefits
It is highly specific to target insects and safe to pollinators and other beneficial insects. (chemicals kills all of bad & good micorbes, pathogens, insects,etc.)
It is completely bio degradable and leaves no residue,thus preventing soil, water bodies and crops from contamination through hazardous chemicals.
Not only safe for environment but also for humans.
Gives long term protection.
Decomposes quickly & less likely to have resistance issues which happens in chemicals.
Effective in srnall quantities, resulting in lower cost.
Also improves plant immunity/ defence/ crop yield and quality.
Helps maintain bio-diversity & has no impact on food chain.
Being organic in nature is well suited for organic & ipm cultivation.

Direction For Use:
Soil Application : Use Aari Fungin 1 liter per acre of land with enough water and apply at root zone.
SeedTreatment Aari Fungin can be used against seed borne infections and also results in better gerrnination.(Apply 4 ml/kg seeds/seedlings for 1-5 minutes, than to be dried & sown.)
Foliar Spray : Dilute Aari Fungin 1.5-2 ml per liter of water.

Note : Useful against wide range of diseases of various crops like grapes, pomegranate, citrus, banana & other fruits/ vegetables / pulses /oilseeds / sugar cane /cotton / paddy/ floriculture and spices croPs.

Warranty : Since the use of the product is beyond our control we cannot assure any responsibility other than for the uniform quality of the product
Looking for "
Aari Fungi Crop Protection Liquid

" ?