RID Broad Spectrum Antiviral Liquids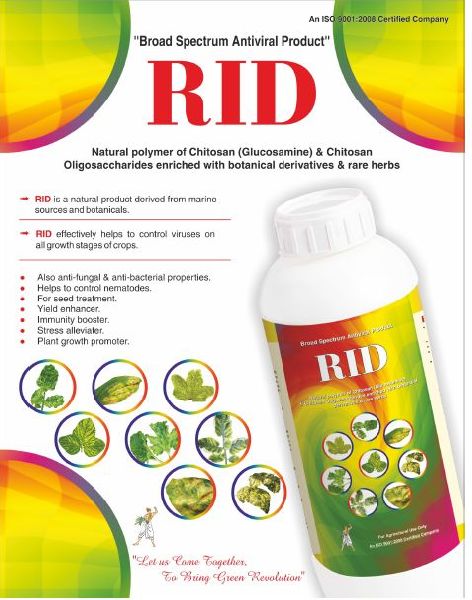 Business Type
Manufacturer, Supplier, Retailer, Wholesaler
Brand
RID
Pack Type
Bottle
Form
Liquid
Click to view more
Product Details
Content
Chitosan Oligosaccharide
Description
Viral Disease Control
Product Details:
RID is a natural product derived from marine sources and botanicals.
RID effectively helps to control viruses on all growth stages of crops.
Also anti-fungal & anti-bacterial properties.
Helps to control nematodes.
For seed treatment.
Yield enhancer.
Immunity booster.
Stress alleviater.
Plant growth promoter.

RID enhances plants own defence mechanisms (immunity) and increases resistance against mainly virus, also fungal & bacterial infections. Activates plant cells & induces plant to produce antiviral substances (increased synthesis of secondary plant metabolites). Also plant growth promoter & yield enhancer.

Symptoms of Virus Attack
Common symptoms include mottling (called mosaics )that look like a variegated yellow & green on the leaf, f ruit or flower; curled or distorted leaves; stunting of leaves, stems or f ruit; ring spots that look like wavy rings or lines of yellow, white or red through the leaf;blackened cankers or black streaks on the stem.

Advantages:
Antiviral Activity : RID inhibits systemic propagation of viruses & viroids throughout the plant and to enhance the host's hypersensitive response to infection. RID is reported to be active against the potato virus X, tobacco mosaic and necrosis viruses, alfalfa mosaic virus, peanut stunt virus, cucumber mosaic virus, rose mosaic virus, peony ring spot, common bean mosaic virus, tomato spotted wilt virus, chilli leaf curl, cauliflower mosaic altos and many other viruses.
Nernaticidal Properties : Nematodes proliferation can be controlled when applied in soil because chitinolytic microorganisms proliferate destroying nematode eggs and degrading the chitin containing cuticle of young nematodes. Because of the high content of nitrogen in Chitosan Oligosaccharide, concentrations of ammonia emissions increase, turning toxic to nematodes which principally affect plant roots and shoots.
As plant growth promoter, it shows positive effects on germination index, growth of seedling, root length, shoot growth, flowering , leaf area increases, induces nutrient uptake,etc.
Effectively controls some soil borne pathogens when applied as root drench.
Seed Coating: Treatment on seeds alters the permeability of the seed membrane and thereby increases the concentration of nutrients in the seed. Hence, the seed soaked in rid have a better germination rate and the seeds germinate faster and vigorously.Also forms a thin coat over the seeds and give more firmness to the seeds and protects it from the microbial attack.

Alleviates Stress:
Improves the plant tolerance to salinity, metal toxicity, water scarcity, limits transpiration, environmental stresses, various biotic & abiotic stress.
Increases quality, yield & shelf life of harvested product.
Reduces the use of chemical pesticides, thus cost effective.
Increases load of beneficial microbes in soil, thus improving the quality and health of the soil.
The product is water soluble and biodegradable.
Long term protection.

Dosage :Use 30 mlof RID diluted in 15 liters of water / For 200 liters volume of water use 300 ml RID.

Note : Do not use it by mixing with alkaline agro chemical.

Warranty: Since the use of the product is beyond our control we cannot assure any responsibility other than for the uniform quality of the product.
Looking for "
RID Broad Spectrum Antiviral Liquids

" ?