Nemacure Natural Crop Protection Immunomodulator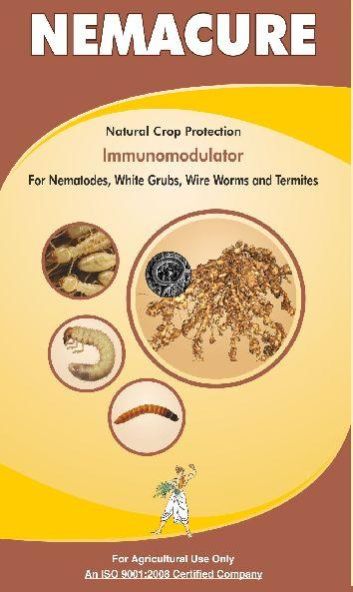 Business Type
Manufacturer, Supplier, Retailer, Wholesaler
Brand
Nemacure
Biological extracts
30%
Stabilizers
5%
Click to view more
Product Details
Storage
Store At Room Temperature
Content
Metabolite Fermentaion Based
Description
Nematode, White Scrub, Termite, Wire Worms and other Soil Borne Diseases
Product Details:
Nemacure is a biotech research product. The product is a unique combination of biological and plant based extracts.
Nemacure contains natural extracts which induces resistance to soil borne pests like nematodes, white grubs, wire worms and termites.
Nemacure is a phenomenal product which contains several hormones, enzymes, amino acids besides natural florigens.

Dosage: 1 Liter for 1 to 2 acres of land in soil application (As per requirement dose can be repeated and also dosage depends on type of crops.)

The liquid is totally water soluble, take Nemacure required dose and mix it with water thoroughly,drench the soil, preferably at the base of the plant directed to its root zone. Use adequate volume of water depending on the nature of the soil.

Caution :
Please See Application Guide For Use.
Keep Out of Reach of Children.
Keep in cool, dry place.
Disposal of containers.

Warranty : Since the use of the product is beyond our control we cannot assure any responsibility other than for the uniform quality of the product.
Looking for "
Nemacure Natural Crop Protection Immunomodulator

" ?