Amul Silicic Stabilized Orthosilicic Acid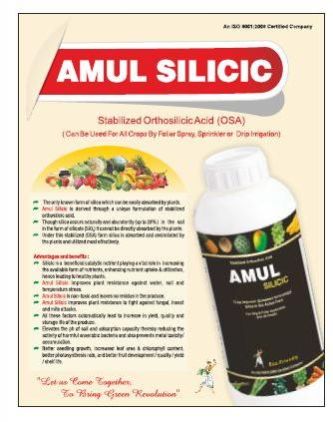 Business Type
Manufacturer, Supplier, Retailer, Wholesaler
Foiler Spray
1 ml/liter of water or 200ml/acre/application
Drenching
2-4 Ml/literof Water or 400ml/acre/application
Drip Irrigation
200ml /acre/ Application
Click to view more
Product Details
Product type
growth promoter
Content
Orthosilicic Acid
Description
Stress Management, Weather Effect and Yield Increase
Product Details:
The only known form of silica which can be easily absorbed by plants.
Amul Silicic is derived through a unique formulation of stabilized orthosilicic acid.
Though silica occurs naturally and abundantly (up to 28%) in the soil in the form of silicate (SIN it cannot be directly absorbed by the plants.
Under this stabilized (OSA) form silica is absorbed and assimilated by the plants and utilized most effectively.

Advantages and benefits:
Silicic is a beneficial catalytic nutrient playing a vital role in increasing the available form of nutrients, enhancing nutrient uptake & utilization, hence leading to healthy plants.
Amul Silicic improves plant resistance against water, soil and temperature stress.
Amul Silicic is non-toxic and leaves no residue in the produce.
Amul Silicic improves plant resistance to fight against fungal, insect and mite attacks.
All these factors automatically lead to increase in yield, quality and storage life of the produce.
Elevates the ph of soil and adsorption capacity thereby reducing the activity of harmful anaerobic bacteria and also prevents metal toxicity/ accumulation.
Better seedling growth, increased leaf area & chlorophyll content, better photosynthesis rate, and better fruit development / quality / yield / shelf life.
Abiotic Stress
Temperature Fluctuations, Water Shortage, Excess Rain & Soil Related Stresses (Acidity, Alkalinity, Salinity, Heavy Metats, etc).
Abiotic stress today is the biggest factor of productivity loss in today's agriculture.
Unfortunately there is no cure/treatment for this, Amul Silicic plays vital role as preventive measure to alleviate Abiotic Stress.
Stress Relief Mechanisms:
Increased Production of Antioxidants.
Binding and co-precipitation with Metal Ions.
Immbilization of Metal Ions in the soil.
Modification of element uptake processes.
Silification of leaf surfaces can significantly decrease water loss by transpiration and thus reduce drought stress.
Increases heat tolerance.

Biotic Stress
Due To Fungal, Bacterial, Insect, Mites etc Attack.
Silicic acid induces plant defense mechanism to produce antifungal or antibacterial compounds.
Bacterial and Fungal damage in crop plants is reduced when silica is deposited at sites of attack, mechanically impeding pathogen penetration.


Important Pests Suppressed By Silicon:
Rice: green Leaf Hopper, Brown Plant hopper, stem borer leaf roller
Sorghum: Shoot Bug
Corn: Stem Borer
Sugarcane: Internode Borer

Important Disease Suppressed By Silicon:
Rice: Leaf & Neck Blast, Brown Spot, sheath blight grain discoloration stem rot.
Sugarcane: Sugar rust ring spot
Banana Wilit :Fusarium
CucumberPowdery mildew
Looking for "
Amul Silicic Stabilized Orthosilicic Acid

" ?